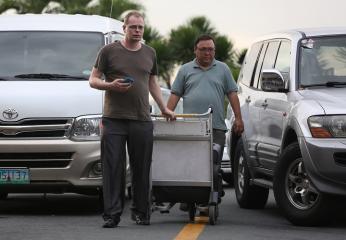 Laude fiance Marc Sueselbeck stopped from leaving PHL. Marc Sueselbeck, fiance of slain transgender woman Jennifer Laude, is seen here at the Ninoy Aquino International Airport at 5 p.m. on Sunday, Oct. 26, for his flight home to Germany. However, the Bureau of Immigration barred Sueselbeck from leaving the country after it filed a charge of 'undesirability' against him. Danny Pata
The Bureau of Immigration prevented Marc Sueselbeck, German fiance of slain transgender woman Jeffrey (Jennifer) Laude, from leaving the country on Sunday because of a pending deportation case against him.

Immigration Commissioner Siegfried Mison said in a text message that Sueselbeck had to defer his departure because of an undesirability case against him.

"A copy of the Charge Sheet was provided to him," Mison also said, adding Sueselbeck has been told to report to the BI's legal division on Monday.

On Oct. 22, Sueselbeck and Laude's sister Marilou climbed a perimeter fence inside Camp Aguinaldo to get inside the Mutual Defense Board – Security Engagement Board (MDB-SEB) facility, a restricted area, where US Marines Pfc. Joseph Scott Pemberton, the suspect in Laude's death, was brought earlier in the day.
Sueselbeck has repeatedly apologized for the incident, saying he did not mean to disrespect Philippine authorities.
In a statement to the media, Lt. Col. Harold Cabunoc, Armed Forces of the Philippines spokesman,
said the AFP is "happy that the BI has done its job professionally and took swift action" in preventing Sueselbeck from leaving.


"The AFP has accepted his apology but remains committed to pursue the move to have him declared as an undesirable alien," he also said.
(C) 2014 by GMA News