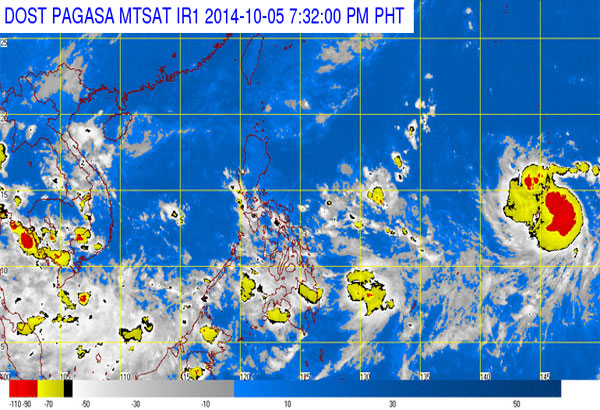 A new typhoon hovering over the Pacific Ocean was forecast to enter the Philippine area of responsibility on Wednesday but the state weather bureau said it is unlikely to affect any part of the country as it moves toward Japan.
Vongfong was expected to pass through the northeastern boundary of the country on Wednesday or Thursday, the Philippine Atmospheric, Geophysical and Astronomical Services Administration (PAGASA) said yesterday.
Vongfong will be locally named Ompong once it enters the Philippine
area of responsibility, PAGASA said.
It said Vongfong may follow the track of Typhoon Neneng (Phanfone), which exited the country on Saturday.
"If it maintains its current track of west-northwest, it may enter the Philippine area of responsibility by Wednesday or Thursday," PAGASA weather forecaster Fernando Cada said.
The weather bureau said that light to moderate rains may affect the eastern section of Luzon, Palawan and the Visayas on Wednesday due to the trough of the typhoon.
Headlines ( Article MRec ), pagematch: 1, sectionmatch: 1
The rest of the country will have partly cloudy to cloudy skies apart from rainshowers or thunderstorms, it added.
PAGASA said the tropical cyclone was forecast to move toward the southern islands of Japan.
"It is not expected to make landfall in any part of the country," the weather bureau said.
Meanwhile, PAGASA said the intertropical convergence zone will continue to bring cloudy skies with light to moderate rainshowers and thunderstorms over the Visayas, Bicol region, Caraga and the provinces of Mindoro until today.
Metro Manila and the rest of the country will be partly cloudy to cloudy with isolated rainshowers or thunderstorms.
PAGASA said the coastal waters of Northern Luzon will be moderate to rough in the next 24 hours.
(C) 2014 by Philippine Star