(philstar.com)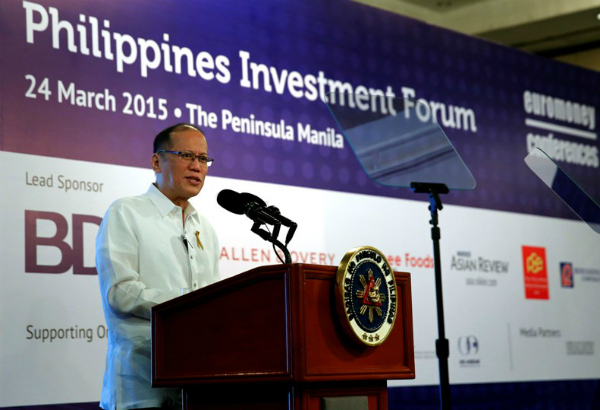 "You ain't seen nothing yet."
This was President Benigno Aquino III's message to investors on Tuesday as he boasted the country's economic growth under his watch, claiming that the best is yet to come.
Speaking at the Euromoney Philippines Investment Forum in Makati, Aquino cited the economic achievements during his term including the country's new all-time record in foreign direct investments, improved global competitiveness rankings and the credit rating upgrades.
"The tremendous amount of confidence the global community has developed for the Philippines is incredibly gratifying, especially considering that, not too long ago, we were known as the 'Sick Man of Asia'," Aquino said.
"However, our administration remains hard at work so that we can maximize every opportunity available to us, and I think many of you will agree with me when I say: You ain't seen nothing yet," he added.
Aquino told investors that the country is "poised for even more success" and that "there is indeed much reason for optimism."
Despite the country's economic gains, Aquino said that the "limitless potential" of Filipinos has yet to be "sufficiently measured."
"I know that we have only scratched the surface.. To those who are here to take a closer look at the Philippines," Aquino said.
"I invite you: Bet on the Filipino people, and discover for yourself how it's more fun and more profitable to do business in the Philippines," he continued.
In his speech, Aquino did not fail to take a swipe at the Philippine media for not trumpeting the country's economic achievements.
"There has been so much good news these past few years, and yet, this good news has often been relegated to the back pages of our broadsheets. I must admit: our campaign to change the mindset that negativism sells is still a work in progress," Aquino lamented.