Heart will stop painting if….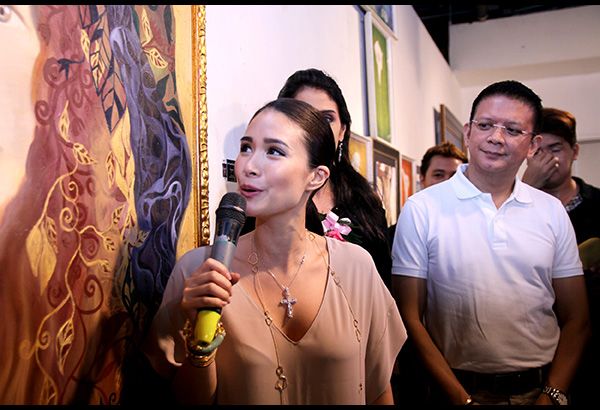 For a while, Heart Evangelista stopped painting when she felt that her style was not improving. But it was her husband, Sen. Chiz Escudero, who rekindled Heart's interest in painting when he gave her a big canvas as pasalubong from his trip to Europe.
But if…and that's the BIG IF…Chiz decides to run for whatever position in 2016, sources said that Heart will have no choice but to temporarily quit painting again since she will have to hit the campaign trail with him.
As of now, Chiz is mum about his plan even if it's easy to tell just by reading his lips and discerning his actions (that speak louder than words).
When Funfare asked Chiz about it during a brief "ambush" interview two Saturdays ago when he fetched Heart at GMA after the airing of Startalk (in which Heart is a co-host), he admitted that he and Sen. Grace Poe have been constantly in touch. "In fact," said Chiz, "I was with Grace the other night with her mom (Susan Roces)."
Like Grace who, according to surveys, is a popular choice for the presidency, Chiz is an Independent (although they can be "adopted" by any party). Having been friends for years, Grace and Chiz are comfortable with each other. Chiz was the spokesman for Grace's father FPJ when he ran for president in 2004. FPJ was believed to have won, but…
From Startalk, Heart and Chiz proceeded to SM Megamall A.R.T. Center where Chiz opened PortrAYAL (LAYA), the benefit exhibit of the Actors Guild of the Philippines. As one of the participants, Heart chose a 48"x 72" oil painting called Forgotten. Asked why she called it that, Heart simply smiled.
The start for the filing of COCs (Certificates Of Candidacy) is in October, barely two months away. If you've been following the front pages, you must be wondering why Grace insisted on having Chiz with her on a nationwide sortie with DILG Sec. Mar Roxas (the alleged administration standard bearer) suggested by Pres. Noynoy Aquino. Watch the front pages for the latest development.
Incidentally, could it be true that Grace and Chiz will issue a "joint statement" anytime…soon? Stand by.
- See more at: http://www.philstar.com/entertainment/2015/07/15/1476939/heart-will-stop-painting-if....#sthash.0KVq76OW.dpuf