(The Philippine Star)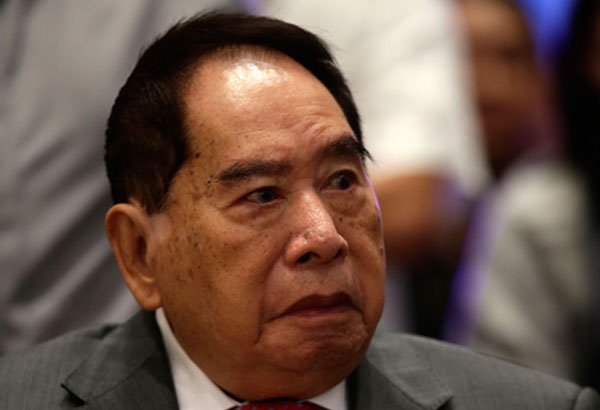 MANILA, Philippines – Mall and real estate magnate Henry Sy Sr. is still the country's richest man, leading 11 other Filipinos who made it to Forbes magazine's 2016 annual billionaires list.
The list covered 1,810 billionaires around the world, down from a record 1,826 the previous year.
The 91-year-old Sy, with a net worth of $12.9 billion, ranked 71st on the list while another taipan, 88-year-old John Gokongwei, was second richest in the Philippines, ranking 270th with a net worth of $5 billion.
Airline and tobacco magnate Lucio Tan, 81, has a net worth of $4 billion. He came in third among the 11 Filipino billionaires and No. 380 on the annual Forbes list.
George Ty, 83, ranked 4th among Filipino billionaires and 421st on the list.
Three Filipinos, meanwhile, were tied at 569th place: 94-year-old construction mogul David Consunji, 63-year-old mall and property magnate Andrew Tan and 63-year-old fast food giant Jollibee Foods Corp. founder Tony Tan Caktiong, all with a net worth of $3 billion.
Other Filipinos on the list are ports tycoon Enrique Razon Jr., 55, with a net worth of $2.4 billion and 722nd on the global list; retailer Lucio Co, 61, with a net worth of $1. 6 billion; and Robert Coyiuto Jr., 63, with a net worth of $1.6 billion. Co and Coyiuto share the 1,121st slot.
Mass housing tycoon and former senator Manuel Villar, 66, landed in the 1,367th spot, with a net worth of $1.3 billion.
The Filipino billionaires have a combined fortune of $42.75 billion or P2,021.65 trillion.
Worldwide, Microsoft-founder Bill Gates has remained the world's richest person on Forbes 30th annual ranking of the world's billionaires.
His net worth of $75 billion was lower than the $79.2 billion in 2015. He has consistently topped the list for 17 of the last 22 years.
Zara global fashion brand owner Amancio Ortega, meanwhile, emerged as the second richest person on the planet, moving up two notches as his net worth increased $2.5 billion for a total of $67 billion.