FEATURE: Jasmine, my muse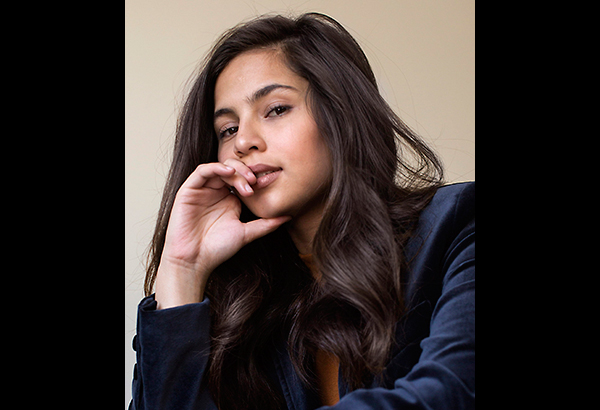 (Samantha Lee is the writer-director of Baka Bukas, an upcoming LGBT-themed film that asks, "What happens when you fall in love with your best friend?" — Ed.)
MANILA, Philippines - Hindi po yan si Jasmine Curtis?" a security guards asks me as I distract him from the ongoing guerrilla poster shoot happening 10 feet away from us. It was 5:04 in the afternoon, a random Wednesday in September, and we were on the rooftop of an office building in Mandaluyong. I was trying to distract two security guards while the rest of my crew tried to get as many photos of Jasmine as possible before we were eventually kicked out. I tried bribing the guards with money as more of them gathered around me by the minute. It didn't work. In a last-ditch effort to buy us more time, I offered them a photo opportunity with Jasmine after our shoot was over. It didn't work either, because the girl in front of them didn't look like the Jasmine Curtis they were used to seeing in billboards and magazines that have been around since she was 17.
"I had a really weird dream about an actress from back home and I woke up today to a text saying she was here." It was 6:20 p. m. in a secluded pub in North Melbourne in August of 2015. I had just gotten off work, a 9-to-5 gig, and met up with my mentor to talk about the pros and cons of moving back to the Philippines. I was due to leave for the Australian outback the next day, to do a bit of soul-searching, but a common friend from the Philippines got in touch with me to say that Jasmine was in town and that we should hang out. I sent her a message and made plans to grab a drink as soon as I got back. A year or so later and we still haven't gotten around to grabbing that drink.
"Kailangan ba talaga nung kissing scene?" was the first thing I was asked while I was in a meeting with Jasmine and her management team. I had run into her in a house party a couple of weeks before this and in the midst of my alcohol-induced courage, asked her if she would be interested in this film. I sent her a copy of the script the next day and 10 days later, she sent me an email with specific notes on different sequences, what she loved and what she didn't. It was a welcome change from the cookie-cutter, quiet clone of ineffectual studio actresses I usually met with at that time. I needed a girl with a sense of fight in her, and Jasmine had a lot of it.
Life outside of Showbiz
"I wanted you to play Alex because I know you have a life outside all of this," I told her while we were having breakfast under a tent, surrounded by a hundred or so people during our first day on set. We were in the middle of talking about a so-called millennial film that had just been released which had a couple of inauthentic-looking party scenes. Much of my interaction with Jasmine prior to that morning involved a couple of friendly words during parties held by our intersecting friend groups, or reciprocal "LOLS" sent to the different group chats we belonged to. We were friends in theory but strangers in real life. I wondered with much anxiety about how the day would go. It was a conscious effort on my end not to give her a lot of materials to study before the shoot because I didn't want her to be playing a character; rather I wanted Alex to be a different variation of herself. In this setup, she was the veteran and I was the rookie, and much of my anxiety stemmed from the fact that I could very likely f*ck this up for the both of us. But what I lacked in experience, we made up for with our common narrative — having lived in the same places, been at the same parties, watched the same concerts, having the same weird piercings, like two planets in different orbits existing in the same galaxy.
"Did you tell her to smize?" my production designer asked me as I sank back into my chair in front of the monitor. It was the last sequence of a very long day; we were in a bagnet place in Maginhawa where I spent most of the time running up and down a flight of stairs because there was no place for me to sit where they were shooting. Jasmine showed up feeling a bit under the weather, a combination of having come from taping the night before and suffering from back pain (something I found out about later on in the day). Everyone was having an off day, everyone wanted to go home. There was a breach in the usually flawless mind-meld Jasmine and I shared; after endless discussions about what was needed, we still weren't on the same page. I could feel the weight of everyone's fatigue hang around me as I was trying to decide whether to phone this one in — but I knew she wouldn't have wanted me to. I told everyone to get ready for another take, and my DOP asked me what was going to be different this time around. I said I didn't know and ran back to my monitors downstairs. I watched her get ready and I could see in her eyes that she was tired, she was tired but she wanted to be there. And that was when it hit me — I ran back up to the stairs and right before they called "action," whispered into her ear: "You're tired when you are in love." Ten minutes later, we were all on our way home.
She with the sad eyes
"I really like seeing you sad," I said to her as we were sitting in the picture vehicle while the rest of the crew was setting up. It was sometime after midnight on our sixth shooting day. We had just finished shooting Jasmine's first kissing scene, but we still had a long night of tracking shots ahead of us. Quiet moments like these were scarce because she spent most of the time between setups joking around with everyone from the soundman to our interns. She was often loud and full of energy, the same Jasmine Curtis you see during her hosting gigs or TV guestings. Being herself is a character she plays so well. "Sometimes, it's just good to be sad," she said while sitting in the driver's seat. Such is the magic of Jasmine Curtis: using the art of distraction, she gives the illusion of access while keeping her cards close to her chest.
"Alam mo sa basketball? Kapag natatalo ka na, tapos 10 seconds na lang yung natitira sa oras, tapos ipapasa mo yung bola sa star player mo tapos makaka-score sya ng three-pointer? Eto na yun." I was talking to Jasmine's road manager who had a habit of sitting beside me in front of the monitors during really crucial scenes. We've been shooting a highly emotional scene for two hours and it wasn't working out. We had 30 minutes until Jasmine had to go and one more sequence to shoot after this one. I made a last-minute decision to change things up, to go a different way, a Hail Mary pass that I needed her to complete so that we could move on. She nailed it.
"Why do you keep making me open myself up to you?" Jasmine asks while she's seated in a bathtub with Louise delos Reyes. We're in an operating room of an abandoned animal hospital with bloodstains on the walls. We might as well have been shooting a horror film. The script has gone through many revisions, each one taking the narrative further away from my real-life experiences as possible. But this scene, this memory survived. We closed the set, and for the first time since we started shooting, I didn't have a monitor on-set; I had to watch everything happen in real life. I call action, the dialogue starts, Jasmine sings, and for the first time, I find a tear rolling down my cheek.
* * *
Tweet the author @givemesam.
Photo by REGINE DAVID
Produced by DAVID MILAN
Styled by MJ BENITEZ
Hair by AVRIL SEGUIN