Marce to hit Cebu today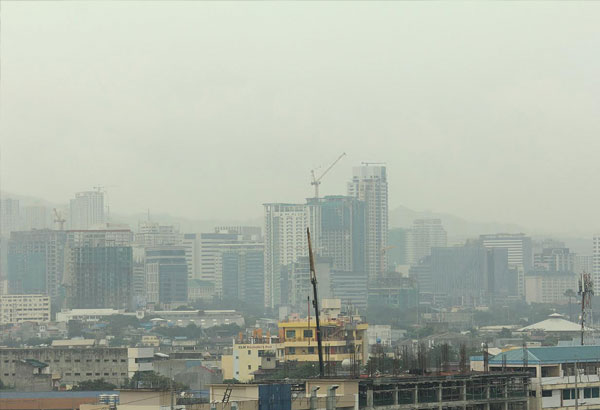 CEBU, Philippines - After causing thousands to be stranded yesterday, tropical depression Marce is expected to make landfall in Cebu early this morning.
PAGASA-Visayas weather specialist Bolivar Artiaga said Marce will continue to bring more rains and people in landslide-prone areas should be watchful.
"Magbantay g'yud ta labi na kadtong mga landslide-prone areas kay posible mag landslide tungod aning sige og uwan-uwan," said Artiaga.
He also said that yesterday almost the entire Cebu sky was engulfed by thick clouds that lowered visibility, it was not fog as many thought.
"Di to siya fog. Tungod lang gyud to sa uwan nga niubos ang visibility. Unya dag-um sad kaayo ang Cebu," Artiaga said.
Based on the PAGASA weather bulletin as of 8 p.m. last night, Marce made landfall in Siargao Island, Surigao del Norte. The estimated rainfall amount is from moderate to heavy within the 300 kilometers of the tropical depression.
Signal no. 1 is still in effect in Biliran, Southern Samar, Eastern Samar, Leyte, Southern Leyte, Bohol, Cebu including Bantayan and Camotes Islands, Siquijor, Negros Oriental, Negros Occidental, Iloilo, Capiz, Aklan, Antique and Guimaras in the Visayas.
Marce is expected to be out of the country by Monday afternoon.
A total of 52 vessels, 17 motorbancas and 81 cargo vessels were not allowed to travel from Cebu to other provinces due to unfavorable weather brought about by tropical depression Marce yesterday.
Paul Alcances, duty officer of the Philippine Coast Guard Cebu Station said that as of 8 p.m. last night, 2,522 passengers were stranded after vessels plying Leyte, Bohol, Camotes, Cagayan de Oro, Masbate, Sta. Fe in Bantayan Island, San Carlos City, Escalante in Negros Oriental and Dipolog routes were barred from travelling.
In the Mactan-Cebu International Airport, four flights plying the Cebu-Surigao/Surigao-Cebu routes were cancelled due to the bad weather, said MCIA corporate communication junior manager Malou Mozo.
Education is priority
Despite the tropical depression, some schools in the city will have classes today as Mayor Tomas Osmeña did not order to suspend the classes.
Saying education is his priority, Osmeña said he does not see the need to hit the panic button.
"There's classes. The only exception would be in certain schools which are exposed to slides, the children cannot go home, or if they will have to cross the river like Barangay Buot," he said, adding schools in barangays Busay and Sapangdaku should also suspend classes.
However, he clarified that school principals have the discretion to suspend the classes depending on the situation of the schools today.
"I have the responsibility of not hitting the panic button. If there's a real danger, there's always a danger, but if you talk about lesser danger, you don't need to give many instructions because people will get confused," he said.
Cebu City Disaster Risk Reduction and Management Council head Nagiel Bañacia said the suspension of classes shall be treated on a case-to-case basis depending on the situation.
With this, Bañacia encouraged the public to be alert, saying there are 19 upland barangays prone to landslides while five urban barangays are prone to flooding.
The mountain barangays that are highly susceptible of landslides are Lusaran, Binaliw, Guba, Budlaan, Malubog, Buot, Busay, Sirao, Taptap, Adlaon, Tagba-o, Tabunan, Pung-ol Sibugay, Sudlon 1, Sudlon 2, Sinsin, Buhisan, Pamutan, and Sapangdaku.
The urban barangays that are highly susceptible to flood are Bonbon, Labangon, Kasambagan, Kinasang-an, and Mabolo.
He said responders are on standby to respond to any eventualities while contractor's association has committed to deploy their heavy equipment in case of landslides in the upland barangays.
For emergencies, he said the public may call numbers: 032-2621424 and 0923-5248222.
Mandaue City Mayor Gabriel Luigi Quisumbing yesterday declared suspension of classes in all public elementary schools due to the bad weather.
"In light of the impending landfall of TS Marce in Surigao this afternoon which is expected to bring heavy rains to Cebu, afternoon classes in Elementary Public Schools in Mandaue City are hereby cancelled," Quisumbing said.
In Talisay, the city also declared class suspension yesterday and today for all levels.
The tropical depression may bring heavy rains and the city government said this might affect Barangay Manipis which is prone to landslide, and other barangays that are prone to flooding.
Code red
The Provincial Disaster Risk Reduction and Management Office placed the whole province of Cebu under Code Red: Charlie.
"Base sa protocol, naa man gitawag sa alpha, bravo, charlie. Charlie naa ta, Code Red: Alert Charlie. Naa ta sa gitawag nga minimum critical preparation," PDRRMO head Baltazar Tribunalo said.
With the storm signal, the Cebu provincial government suspended classes in all levels in public schools throughout the province yesterday and today.
Private schools, on the other hand, were advised to dismiss classes, especially in areas prone to flashfloods and/or landslides.
The Cebu provincial government fielded all heavy equipment units in the northern and southern parts of Cebu for immediate response in case of landslides. The PDRRMO also warned coastal residents of possible storm surges.
Church refuge
Meanwhile, Cebu Archbishop Jose Palma yesterday asked churches and chapels throughout the province to accommodate any evacuees who may be displaced or seeking safety from landslides or floods. — Mitchelle L. Palaubsanon, Kristine B. Quintas, Le Phyllis F. Antojado, Jean Marvette A. Demecillo, Garry B. Lao, Iris Mariani B. Algabre (FREEMAN)