By Christina Mendez
(The Philippine Star)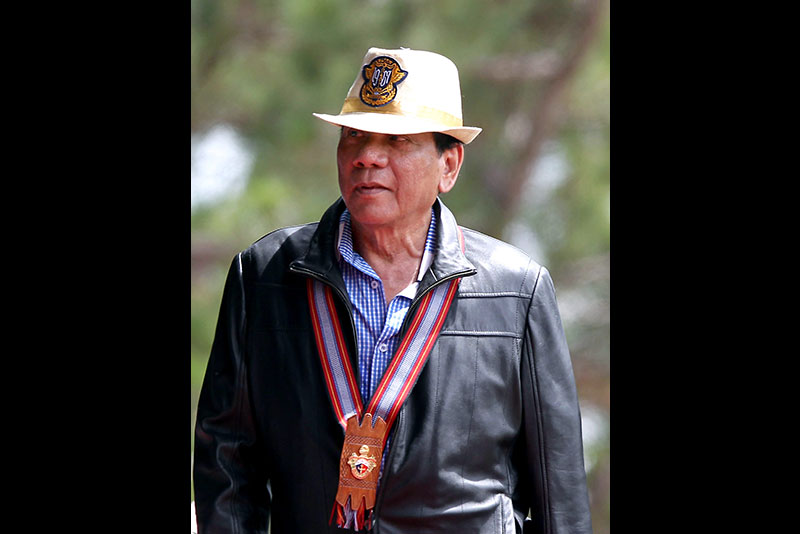 MANILA, Philippines - President Duterte said he is "doubly honored" to be adopted by the Philippine Military Academy Alumni Association Inc. more than two decades after he became an honorary member of PMA Class of 1967.
"I am an adopted 'Dimasupil' Class of 1967, that is already honor enough but to be formally adopted by the Philippine Military Academy Alumni is a double honor," Duterte said in his speech before PMA alumni at the PMA Grandstand in Fort Del Pilar, Baguio City yesterday.
He said the latest honor was "because of my long and harmonious relationship with PMA alumni (and) not about political consideration." He thanked the alumni association "for clarifying that."
Duterte said he is just as happy doing his work as public servant.
"The work I do, I do in the service of the people," he said. "And somehow, I also feel at home here at PMA because of its mission to train and develop graduates with character and skill."
Although he is not a soldier, Duterte said he is aware of the demands of being one. It requires inner strength, a choice to live by courage and principle, he pointed out.
He said, "My own life has been molded by the principle of love of country, compassion for the poor and needy and pride in being a Filipino."
On Friday at the Baguio Country Club, Duterte extolled cadets and alumni for their deep commitment to serve.
"I am confident therefore that our mistahs who are holding key positions in the public and private sectors will deliver what is expected of them and more," Duterte said.
"We are now in the process of modernizing the Armed Forces of the Philippines and the Philippine National Police so that they may perform their mandates effectively," he added.
In the same event, Duterte said he has directed law enforcement agencies "to be relentlessly pursuing those who would do harm to our people and the country, including criminal organizations, drug syndicates and terrorists."
"So, no matter where our journey in life led us the last 50 years, our shared love and sacred duty to serve our motherland will always bond us together as members of the 'Dimasupil' Class of 1967," Duterte said.