Houses, mosques damaged by magnitude 6 quake in Lanao del Sur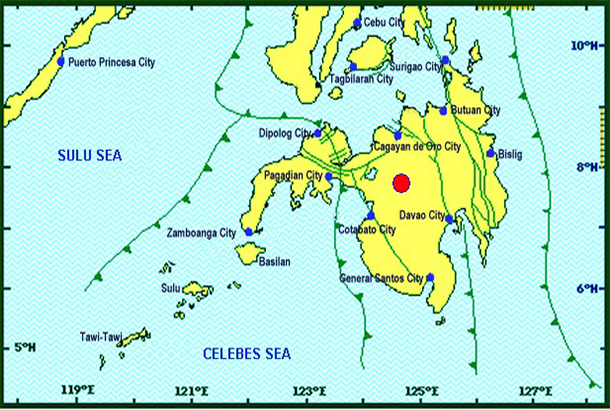 MANILA, Philippines (UPDATE 1 1:22 p.m.) — A strong magnitude 6 earthquake hit a Lanao del Sur town early Wednesday morning, damaging dozens of houses and sending people fleeing into the streets for safety, authorities said.
There were no immediate reports of serious casualties but electricity was cut and water pipes ruptured in Lanao del Sur. The provincial government said that four villages were affected with 30 houses damaged. The national road in Barangay Panang also had a crack four inches wide with a depth of one foot. Two mosques were also damaged in the same village.
Disaster officials said residents jumped out of bed and ran onto the road to avoid falling objects. The earthquake occurred at 5:21 a.m. 14 kilometers north the town of Wao.
"Residents are really shocked with regard to the calamity that happened. So they are on standby (at) the highway," the town's disaster official Francis Garcia said over ABS-CBN television. He said patients were also evacuated outside a district hospital as a precaution.
The Philippine Institute of Volcanology and Seismology (Phivolcs) said the quake was felt in 16 other cities and towns in Mindanao including the major urban centers of Davao and Cagayan de Oro.
The highest reported intensity of the quake was at 7, which Phivolcs categorized as destructive. Big church bells may ring at this intensity while heavy furniture overturn. Old structures could also suffer considerable damage. Intensity 7 was reported at Wao, Lanao del Sur and Kalilangan, Bukidnon.
Meanwhile, Intensity 4 or a moderately strong quake was felt in Cagayan de Oro City; Cotabato City; Gingoog City, Misamis Oriental; Matalam, North Cotabato; and Davao City. At this intensity, the vibration felt is comparable to a passing of a heavy truck.
Other reported intensities were:
Intensity III: Kabacan, North Cotabato; Maramag, Quezon, Don Carlos, Bukidnon; and Lebak, Sultan Kudarat
Intensity II: Kidapawan City and Koronadal City
Intensity I: Camiguin, Misamis Oriental
Phivolcs said that damage is expected from the jolt.
The tremor came days after a trio of strong earthquakes damaged buildings and caused panicked tourists to flee Mabini, a resort town south of Manila famous for its marine life and coral reefs.
"Since the (Mabini) quake, our people became more aware to duck, (take) cover and hold," Kristofferson Vidad, science research assistant at the seismology agency, told AFP, referring to its standard advice on surviving quakes.
The Philippines lies on the Pacific "Ring of Fire" where tectonic plates collide, causing frequent earthquakes and volcanic activity.
A 6.5-magnitude quake killed eight people and left more than 250 injured outside the southern city of Surigao in February, and another 5.9-magnitude tremor killed one person there last month.
Before the Surigao quakes, the last lethal earthquake to hit the country was a 7.1-magnitude tremor that left more than 220 people dead and destroyed historic churches when it struck the central islands in October 2013.
As of 1:30 p.m., 13 aftershocks were recorded in Lanao del Sur with the strongest one, at magnitude 4.4, occurring at 1:01 p.m. — with a report from Agence France-Presse