Palace: President Duterte is well, still in Malacañang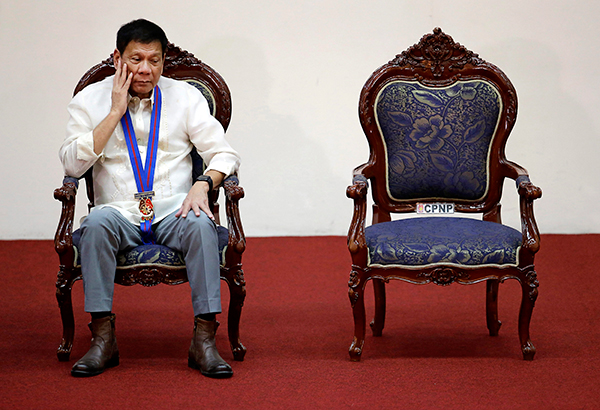 MANILA, Philippines — Malacañang on Thursday dismissed speculations on President Rodrigo Duterte's health amid his absence in the public eye.
"The president is well," presidential spokesperson Ernesto Abella said when asked if Duterte is sick.
Abella reiterated that Duterte is just resting but refused to provide a definite time when the president would be seen in public again. He also denied social media reports that Duterte is currently in Davao.
The presidential spokesperson said Duterte is just taking his time in Malacañang.
"The president needs [rest]. You have to consider that he has been on the road for at least 23 days regarding fulfilling his martial law supervisions. It has been really brutal so we have to allow him this kind of rest," Abella said.
"He's taking some time off to to rejuvenate," he added.
Asked if the president has seen a doctor lately, Abella said he was not privy to the matter but he said he is sure that he has already consulted an expert.
Alejano slams Duterte's absence from public
Meanwhile, Duterte's critic, Magdalo Rep. Gary Alejano, urged Malacañang to issue a regular update on Duterte's health as he cast doubts on the president's absence from the public.
"The absence of the president from the public is very unusual especially there is still an ongoing crisis in Marawi. Much more to be absent for a week without explanation except to rest," the solon said.
"People can not help but speculate about the status of president's health. Malacañang should be forthright in informing the public about this. President's health is a national security issue," he concluded.
Article VII Section 12 of the 1987 Constitution also states that in case the president has a serious illness, the public shall be informed of the state of his health.
"The members of the Cabinet in charge of national security and foreign relations and the Chief of Staff of the Armed Forces of the Philippines shall not be denied access to the Philippines during such illness,"
Abella previously said the president is in "excellent health" after he skipped the Philippine Independence Day rites last Monday.
Foreign Affairs Secretary Alan Peter Cayetano last Monday said that the president did not attend the June 12 ceremonies since he is not feeling well.
Asked if this is the longest time the president has been away from the public, Abella said he is not sure but clarifies that the president usually has his own schedule. He also said the president may travel to Davao one of these days.