PNPA topnotcher: Women can be achievers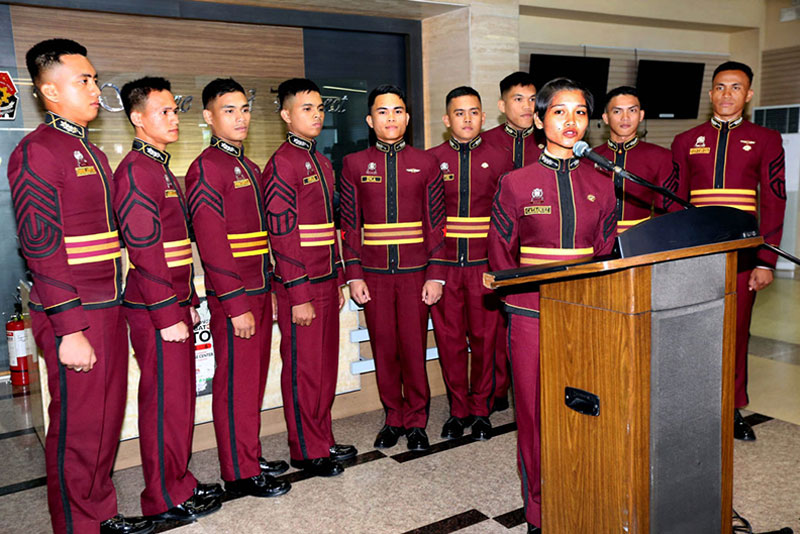 MANILA, Philippines - Graduating in the Top 10 of the Philippine National Police Academy (PNPA) Class Masidlak of 2017 is proof enough that women can also be achievers, said Cadet Maysy Cataquiz.
At 23 years old, Cataquiz ranks 10th out of 144 cadets who will march in today's ceremonies at Camp Mariano Castañeda in Silang, Cavite. Her batch has 22 females.
"I'm proud to have proven that what they do, I can also do," she said in a press briefing at Camp Crame yesterday. "I'm happy I will be giving an example to women who also want to join the PNPA."
Entering the PNPA was not her initial goal, as her childhood dream was to become a doctor. She enrolled in electronics engineering at the Southern Luzon State University after realizing that she is good in Math.
Somewhere along the way, she and her brother decided to give PNPA a try – going through the entrance examination and initial screening. She passed the second screening stage but her brother was not as lucky.
Her father urged her to continue and prodded her to endure the physical, emotional and mental challenges at the academy.
Asked if she is currently in a relationship, Cataquiz replied: "I don't have a cadet boyfriend. It's not allowed in the academy."
She added that although she has let go of her childhood dream to help the sick, she can still realize her desire to save lives and help people in need by joining the Bureau of Fire Protection after graduation.
Class Masidlak is topped by 22-year-old Police Cadet Macdum Enca, a native of Cotabato City, who will receive the Presidential Kampilan Award.
He is the fourth child of Hajah Zainab, a public school teacher, and Haji Yacobnor, a businessman.
Enca had wanted to be a part of the Philippine National Police to prove to the public that not all Muslims are terrorists.
"I'm not an extremist. I'm just a good person, just like any other," Enca told reporters.
Graduating second is Jail Cadet Midzfar Hamis Omar, a Tawi-Tawi native and member of the ethnic group Badjao. He will receive the Vice President Kampilan Award.
Cadet Jan Elcid Layug, who is from Tondo in Manila and son of a police officer, will receive the Secretary of the Interior and Local Government Kampilan Award.
Also in the top 10 are Jail Cadet Juan Paulo Porciuncula, Fire Cadet Harley Glenn Galpo, Police Cadet Michael Daunotan, Police Cadet Ian Rey Diolanto, Police Cadet Abdulcahar Armama and Police Cadet Michael John Sentinta.
The graduates will receive a bachelor's degree in Public Safety and would enter the service as inspectors. Of the 144 cadets, 98 will join the PNP, 31 the Bureau of Jail Management and Penology (BJMP) and 15 the BFP.
PNP chief Director General Ronald dela Rosa advised the graduates to stay away from corruption and avoid seeking favors from politicians if they want to have a fruitful career.
"I told them not to approach politicians or influential government officials and request to be assigned in their preferred assignments," he said in a press briefing after meeting the Top 10 graduates of batch 2017, also known as Class Masidlak, in Camp Crame yesterday.
Dela Rosa reminded them that it is better to excel through hard work rather than from seeking the help of influential people in government.
"Don't get special treatment just because you are the number one in class," he said.
Telling them that no one can bring money to heaven after death, he reminded them to avoid corrupt practices as these would only taint their careers.
Incidentally, Dela Rosa's only son is joining the PNPA in May.
Rock dela Rosa, after his father's nickname Bato, is among 451 applicants who successfully passed the PNPA-Cadet Admission Test 2016 held in 28 test centers nationwide last Oct. 30.
The police chief said he has mixed feelings on the decision of his only son, the youngest of three children, as the young man would surely face strenuous physical and mental challenges during his four years of cadetship.
"I wish him good luck. I'm very proud. But as a father, I also feel nervous. I am not sure if he can survive the training," Dela Rosa said.
He related that since he is the son of a tricycle driver, he adapted a "no retreat, no return" mental attitude when he trained at the Philippine Military Academy years ago.
This is not the case with his son though.
"He is the son of the chief PNP, so he would have a different psychological outlook," Dela Rosa said.
– With Cecille Suerte Felipe