By Edith Regalado
(The Philippine Star)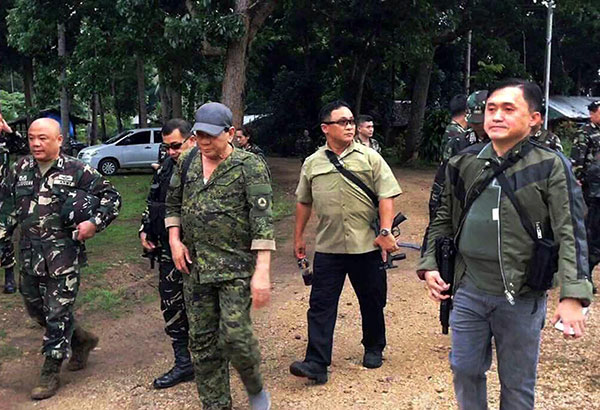 DAVAO CITY , Philippines – President Duterte tried to sneak into Marawi City yesterday but failed due to bad weather.
The President had said he was again taking some "private time" and did not announce his Marawi visit.
Garbed in military camouflage and a cap, Duterte made it as far as Iligan City but was prevailed upon not to continue on to Marawi.
This was reportedly his fourth attempt to go to the besieged city.
His "me time" came after five successive days of provincial sorties, military camp visits and other social engagements.
The President came home to Davao City Wednesday after staying for three days at Bahay Pagbabago in Malacañang. He met with Cabinet officials last Tuesday.
Even the release of a Social Weather Stations (SWS) survey showing him enjoying a high net satisfaction rating did not convince the President to come out briefly to say a word or two about the positive development.
There were no official engagements or functions lined up for him yesterday.
Duterte made it clear earlier that he would spend most of his time in Mindanao in the next few weeks, as he still has to resolve the Marawi crisis sparked by the seizure of the city by the Islamic State-linked Maute militant group.
He said he would only travel to Manila if he needs to attend important functions or meetings.
On Thursday night, Duterte braved the rains to visit three soldiers injured in an attack by New People's Army rebels in Monkayo, Compostela Valley last July 1.
The three wounded soldiers, now confined at the Metro Davao Medical and Research Center, were identified as Pfc. Jestoni Torrefiel, Pvt. Alex Agiaman and Cpl. Rey Lagura.
The President awarded the Wounded Personnel Medal to each of the three. They were also given cash assistance and a Glock sidearm each.
Duterte once again expressed gratitude to the wounded soldiers for their sacrifice, saying he could never thank them enough for their dedication and passion for performing their task of protecting the country and the people.
Earlier, he visited troops of the Army's 403rd Infantry Brigade in Malaybalay, Bukidnon, many of whom were given military merit medals.